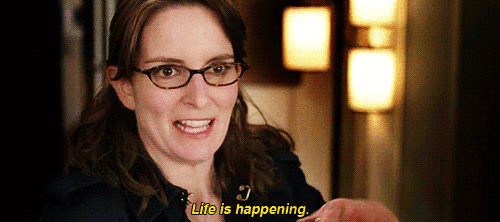 But honestly, what is life? I feel like the last month, and the last five days in particular, have been a whirlwind of emotions. And I'm okay with that? But also confused AF. I haven't had the time to contribute to this blog as much as I've wanted (I've been catching up on everyone's posts, though, and am definitely still excited/serious to catch up on my backlog of all the things.) Sorry to be vague, but it is what it is, and I'm going to try not to question the good that's been happening. I have the kind of headspace that doubts everything, but I'm trying my hardest to just go with the flow, and see where the good stuff might lead.
Let's throw some mostly happy-making bullet points at y'all! (Just gonna do a slightly different format then usual because I have no time these next couple of days!!!)
I read so little but it was koala tea ❤
Reread Winnie the Pooh and I'm still crying over how pure and good and inspiring that bear of little brain is
(Except this past week, I've not had an appetite?? It's kinda like I have constant slight nausea and then I'll eat a tiny bit and be like "woof I'm good." I really don't know if it's stress related because I can't recall feeling this before… ¯\_(ツ)_/¯ )
Read The Wicker King which is so raw and beautiful and unique and wicked and cruel and real. It's quite something. It's definitely one I will review.
(me after reading The Wicker King)
I read several volumes of The Boys which is a dark and very explicit graphic novel about a group of people who take out superheroes that are disgustingly awful and frighteningly relevant to today. (The series ran from 2006-12 and is set in 2006-08.) It does get pretty graphic, but the tone and plotlines are well done and far, far better than that trash that is The Manhattan Projects. IMHO. I'd rec this for people that like Watchman, Preacher, American Horror Story, and/or Sin City.
Other graphic novel highlight was Gris Grimly's Frankenstein, which has utterly gorgeous art and character designs in it // think Frankenstein by way of Tim Burton-esque, emo undercuts and suits, and steampunk whimsy. I think it's a perfect way to get people to dive into reading this classic.
Finally, I read Girl Made of Stars which is devastatingly beautiful and so, so important. It's about a girl [highlight to view, trigger warning because this book, and my comments, deal with sexual assault] whose brother rapes her friend and about how evil and pervasive rape culture is and about how yes, people can present different sides to different people so f/// your argument that "well, he was never that way with me." This book is so relatable, unfortunately so, and it made me cry and ache inside to be living in a world that is like this. But I'm very thankful for this book. It did make me think of my own experiences from college (I had a f///ing awful junior year. It was not like Hannah's story or as "bad", but it did involve alcohol, a massive amount of guilt and shame, and it affected my friends as well.) This book helped me put a new perspective on everything. And it is a lovely reminder that everyone heals at their own pace and that, honestly, sharing your story with a trusted someone can be very helpful. It was also my first ever buddy read with the rad Meltotheany and go read her review because it's brilliant.
I found out there's a freaking Santa Bruce book out this year!!!!! YES I KNOW IT'S OCTOBERWEEN BUT IT'S RYAN T. FRIGGIN HIGGINS I'M SO DOWN *impatiently waits for my library to finish processing our copies*
(my reaction when I find out someone hasn't discovered Mother Bruce yet BUT I CAN FIX THAT)
OH YAAAAAAAAASSSSSSS QUEENS OF THE DEAD It's the most wonderful time of the year. Spoopy decorations and spooky movies and spooktastic costumes, oh my! I really freaking love Octoberween. The seasons should be not-humid summer and Octoberween, my dudes. Oct-toe-burr-weeeeeeeeeen. Say it with me. I'm hoping to be Jim Hawkins this year. I can't believe I haven't done Treasure Planet before. If it comes to fruition, crocheted Morph and glow-in-the-dark map and Etherium (space colored with glitter thrown on) hair and all, I will definitely post pics. And I'll be busting out my self-made Mad Max Fury Road jacket for Rocky Horror.
So that's three books and some graphic novels. Whoops. I have some distractions in my life at the moment and I don't freaking understand but I'm having a good time so…

This is all the stuff I'd like to read this month, BUT WHO KNOWS.
Including these here posts from September!!
How is everyone's October(weeeeeeen) so far? Have you ever been blindsided by, ya know, the unexpected?? What are you going to dress up as!?? (Please answer the latter one, I love costumery and adventures.) Hope everyone has the best and safest Halloween!