Lil surprise for this edition of Five Star Friday: one of my recent eARCs was for an early reader chapter book! And let me just say it was (should I? of course I'm gonna AHEM) it was MEGAcute. There would be a badumtish here, but my drummer quit last week. Something about "not enough cowbell."
Title: Megabat // Author: Anna Humphrey // Rating: 4/5
Synopsis: A sweet and hilarious chapter book about a boy and a bat, two unlikely friends who bond over loneliness, jellyrolls and Darth Vader.
Daniel Misumi has just moved to a new house. It's big and old and far away from his friends and his life before. AND it's haunted… or is it?
Megabat was just napping on a papaya one day when he was stuffed in a box and shipped halfway across the world. Now he's living in an old house far from home, feeling sorry for himself and accidentally scaring the people who live there.
Daniel realizes it's not a ghost in his new house. It's a bat. And he can talk. And he's actually kind of cute.
Megabat realizes that not every human wants to whack him with a broom. This one shares his smooshfruit.
Add some buttermelon, juice boxes, a light saber and a common enemy and you've got a new friendship in the making!
Review: Of course, the cover got to me right away. It's an adorable lil bat, leggies and arms akimbo, ready to swoop in and steal my heart away into the night, yeah? The cute and funny factors of the book just keep coming // we've got tried and true Star Wars references, lady pigeon friends, and plenty of smooshfruit and juice boxes to satisfy. (There are some poop jokes, as well, ya know, for the kids, which okay not so funny, but think of the children.)
I was actually really in love with Megabat's wonkles voice. It was pretty distinct to me, like the croaky cross between the bat henchbat Fidget from The Great Mouse Detective and the knowing, lamenting nasally waffle from Bartok of Anastasia fame. Megabat was the perfect curious companion to encourage Daniel to get out of his funk and make some new friends, both batty and human.
The book is a super fast read which is why I would place it as more early reader chapter book than middle grade. The short length didn't detract from my enjoyment of the book but it did make me think that this would certainly be a five star picture book if it was in that format. This book would be a fun read for many a young tot, especially those with a budding obsession for flying mammals, space operas, and papayas.
The bat got a faraway look in his eye. "The land of Papaya Premium is where the shore meets the sea so blue. Where the parrots squawkety squawk and the piggy elephants romp in the raining forest. It's being where the waterfalls burble and the whiffy orchid flowers spread sweetish stink."
That's just freaking cuteness, right there. Thank you to NetGalley for the eARC!
1. Oh No, Astro! by Matt Roeser

Synopsis: Asteroids! Planets! Astronauts! In this charming debut picture book, a grumpy asteroid named Astro is thrown out of orbit and takes an unexpected journey through space!
Astro is a cranky asteroid who just wants everyone to respect his personal boundaries. But when a satellite knocks Astro out of orbit, he is forced to embark on an epic adventure through space…whether he wants to or not!
Filled with playful illustrations and tons of cool facts about space, this picture book is a must-have for all the future astronauts who are ready to journey through the galaxy.
Review: What a sassy, expressive asteroid, with plenty of LOL curses to entertain ("Good gravity!" "Pluto's revenge!"). This is the second space themed personified planets picture book I've read and loved (usually I'm creeped by sentient inanimate objects), so maybe going with Stardust vibes is how you get to readers like me. Besides being full of cute moments in the story, the book ends with "A Selection of Space Facts" which is just full of silly jokes. Now that's the way to my heart. ("Asteroids have a fairly typical circular path, but orbits, like certain aunts, can also be highly eccentric.")
2. Library Lion by Michelle Knudsen and Illustrated by Kevin Hawkes
Synopsis: An affectionate storybook tribute to that truly wonderful place: the library. Miss Merriweather, the head librarian, is very particular about rules in the library. No running allowed. And you must be quiet. But when a lion comes to the library one day, no one is sure what to do. There aren't any rules about lions in the library. And, as it turns out, this lion seems very well suited to library visiting. His big feet are quiet on the library floor. He makes a comfy backrest for the children at story hour. And he never roars in the library, at least not anymore. But when something terrible happens, the lion quickly comes to the rescue in the only way he knows how. Michelle Knudsen's disarming story, illustrated by the matchless Kevin Hawkes in an expressive timeless style, will win over even the most ardent of rule keepers.
Review: Oh my goodness! Giant kitkat seeks quiet space to be helpful, nap, and listen to story hour. I mean I might be predisposed to love this book – I love books, kitkats, and cute as fudge librarians, after all I work in a library, it's my whole cellar of preserves – but there is just something special about this book. The way the story is sweetly told, the gentleness of this fury giant and gentle acceptance by most of a lion in their midst, the unassuming strength, gumption, and wit of the head librarian, Miss Merriweather, who knows just when rules are meant to be broken (and also not to profile people, or large kitkats). What really got to me with this five star picture book were the illustrations, soft, muted, old-fashioned even, they made me thrum with nostalgia, and then I realized that Hawkes is the illustrator for most of Eva Ibbotson's books. Purrfect.
3. How to Grow a Dinosaur by Jill Esbaum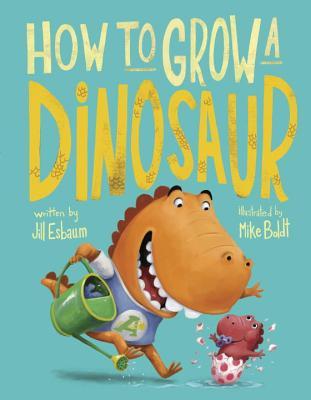 Synopsis: Big brother dinosaur can't wait to teach the new baby everything he knows in this funny, sweet, surprisingly practical "guide" for big siblings, from the celebrated artist of I Don't Want to be a Frog.
Good news: Your mom's hatching a baby! Bad news: Babies take their sweet time. And when the baby finally hatches? He's too little to play! He mostly screeches, eats, burps, sleeps, and poops. He doesn't even know he's a dinosaur! That's where you come in. You can teach the baby just about everything–from peek-a-boo to roaring to table manners to bedtime. Growing a dinosaur is a big job, but you're perfect for it. Why? Because one thing your baby brother wants more than anything . . . is to be just like you.
With silly kid-humor and sincere, moving moments, this new-sibling book is a perfect combination of funny, reassuring, and truly useful. It captures the excitement and joy of getting to guide a little brother or sister through life, and uses big laughs, great surprises, and gentle lessons to empower kids in how to be a great sibling and role-model to littler ones. Great for family reading and reading aloud.
Review: Good news! This picture book is freaking adorable! Fab expressions (I'm reminded of the perfection that is forward facing ponies in My Little Pony (it's just so funny, my dudes)) as well as Spirit: Stallion of the Cimarron (you know, that scene where the little girl sticks her hands in the horse's nostrils and then leaves him confused and bemused with a "bye bye hawrsee"? No, okay, go watch Spirit right now, this review can wait for you to witness that other example of cuteness). You back? Okay, it's also super cute because of the lovely relationship between the dino bros.
Bad news! This book ends. As do all cute things eventually. … On to the next!
4. When Penny Met Potus by Rachel Ruiz
Synopsis: Penny has heard the term POTUS over and over but doesn't know what it means and her imagination runs wild! When she spends a day at the office with her mother, she asks a few questions, looks around, and tries to discover just who or what POTUS is.
Review: Can the world be this way? Please and thank.
Slightly longer sentiment: OMG Monster!POTUS and Surprise!POTUS are absolute cuties and the best thing since canned bread!!!
It's (picture) books like these that honestly give me hope for the future. That there are adults that share such inspiring stories (that are working so hard for the people) and that a little girl somewhere will be read this story, will read this story, will want to live this story. Here's to hoping to be hopeful.
5. Hedgehog! by Ashlyn Anstee
Synopsis: Hedgehog is hogging the hedge and won't let the other animals live there. In this humorous political allegory, he learns that it's not a winning strategy.
Winter is coming, and the animals need homes. The worms move in with the ground hogs. The possums share a burrow with the foxes. The birds and the squirrels stay in the oak tree together. The hedgehog lives in the hedge . . . all by himself. When other animals come looking for a place to stay, he's NOT interested: it's HIS hedge and everyone else can STAY OUT. He gets busy making signs, putting locks on his door and even building a fence. All he cares about is keeping the other animals out… but he's making a huge mistake.
Will the other animals find a home in time? Will Hedgehog learn his lesson? Is this a terrific story? Read on to find out.
Review: I picked up this book because a grumpy hedgehog was pulling a very cute Winnie the Pooh stuck-in-the-entrance-to-Rabbit's-abode type front and back cover and it beheld a beautiful pun. And then I died by the first page, festooned with animals preparing for winter, including a cat knitting on a fence!! and a bumble giving their love a flower and a cricket?? driving around a log tour bus for this bustling garden. And of course, the eponymous hedgehog, looking out his blue hedge door, shaking his lil fist with all of his "you kids get off my lawn!" vigor. So much cute detail! And oh my goodness there are scribble grumbleswears on Hedgehog's hedge leaves as he waffles and quakes at Grasshopper's generosity (she lives under his hedge and is giving shelter to all the animals that can't find a place to squeeze in in this ridiculously busy backyard.)
Somehow, Hedgehog shakes his home to pieces and is forced to grovel at Grasshopper's feet. And she's like "Of course you Grumpy Gus! C'mon in!" and he's like "I brought pie!!" and just ugh, my heart warms as the winter scene sets in and everyone shares some pie and a cute lil home under the hedge. And it looks like blueberry pie and I'm so h a p p y. Thanks book!
So I am back from my travels! With a bit of a backlog of posts, alas. And I'm really in a slump mentally (post-travel blues I suppose), but bear with me! (Ha…  with me.)
My trip was wonderful and I'll post about that (and my book haul lol) soon. And I am glad to be home, but the spaces and the conversations (not happening) in between are just weighing me down. I've got too much baggage from this five-year-long guilt trip!! Oh well. I hope everyone's August was smashing!!! What did you get up to? And what was your favorite read?