I saw this tag over at Jenna's coolcoolcool blog, bookmarkyourthoughts and I was like !!!! Whassup!? This tag, that's what!
Oh, gawrsh, what. an. era. You had Boy Meets World and Gargoyles and Fight Club and The Matrix. There were snap bracelets and crimped hair and denim on plaid on sweaters draped around waists. Bop It and Furbies and Goosebumps, oh my! I still have my Nintendo 64! Stuff and things!!!!
Lol, okay, let's get to this.
SHE'S ALL THAT
NAME A BOOK COUPLE THAT IS AN ODD PAIRING BUT THEY STILL FIT PERFECTLY
(Sorry, not sorry, I love the 2005 Knightley/MacFadyen version) Lizzie is a baller, she knows what she's worth and loves her fam and is just gonna live her life, who cares about gossip? Darcy is a f///ing glorious walnut of a man, too wrapped up in his own head and social anxiety and expectations to realize the greatest good he was ever gonna get was right there, right across the dance floor. Thankfully, these two get their sh*t together, after a few faux pas, misunderstandings, and some passionate letter writing.
Warm Bodies, how do I love thee? Let me count the ways. I never ever thought I would love a zomromcom. I mean, *shudder* it just shouldn't work. But the book is gorgeously written and, of f///ing course, zombies = apathy/depression/isolation is brilliant. Julie is living, breathing, fighting, blazing hope, and she's standing over her own precipice of loss and grief. And along comes R, a man without a name, without a voice, just nomming on some airplane peanuts brains, until he noms on the right brain, and suddenly, there's a flicker, a flame, and he feels something again… I don't know, my dudes. This isn't a couple that's like, we'll fix each other's depression or mental illness, it's better than that. Phew, just read the book. It shouldn't work, but it destroys me every time. (The movie is pretty fab, just not as bone-rattling great as the book.)
10 THINGS I HATE ABOUT YOU
A BOOK/SERIES THAT YOU HAVE A LOVE/HATE RELATIONSHIP WITH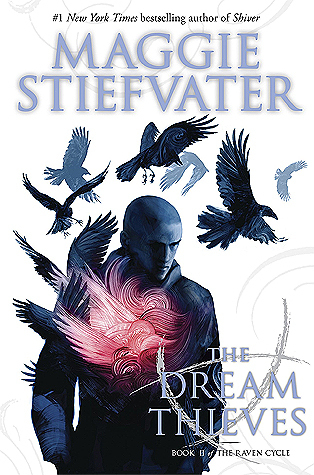 I've read all of these, although I think my ire for things in the first two tainted the latter half and I don't remember as much… I love the atmosphere and much of the writing (and Noah, omg Noah). This book is about that yearning for magic and then it gives it to you. But gosh dang it all, there was just a lot that annoyed me. I don't want to be too harsh and I definitely don't want to be spoiler-y (a lot of what I'm kerfuffled by is spoiler city (I just think sometimes things are glossed over or unexplained or freaking ignored and T_T). I do think this series deserves a second read from me (I've read a review recently that compared the character interactions to icebergs,  and I can believe I missed a lot because I focused on the irksome) so I'll just leave you with that word that haunts my dreams (whyyyyyyyy you can pull anything from your dreams whyhyhyhyyyyy)
Mitsubishiiiiiiiiiiiiiiiii
CLUELESS
A CHARACTER THAT IS TOTALLY CLUELESS BUT YOU LOVE THEM ANYWAY
Simon Spier is the sweetest, most oblivious marshmallow, both book and movie versions. I just, maybe I'm a bit like Simon, because I second-guessed my first choice for Blue, and so guessed wrong to my friend, and really went wild with one of my guesses and DUDE. Dude. But still, this bean might be a little befuddled by love and mystery, but he's so deserving, in the end, of his great love story.
TITANIC
NAME A BOOK THAT MADE YOU CRY
This will never be a book or movie I would recommend lightly. It is beautifully written and well-done, but it deals with trauma, specifically childhood sexual abuse, and that isn't a topic to just dive into unawares. Heim is one of my favorite authors, and his writing evokes a physical reaction in me every time.
AMERICAN PIE
A BOOK THAT MAKES YOU LAUGH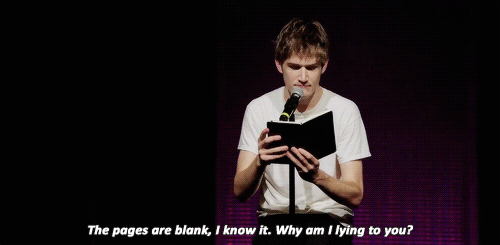 Bo Burnham, his standup, music, brainpan, philosophy on life // I love it all. His lil book of poems is hit or miss for being as amahzing as the rest of his career, but it did get a laugh or four out of me. And then there's this soft apocalypse poem:
This slideshow requires JavaScript.
and I'm in love with it, lol.
CAN'T HARDLY WAIT
A BOOK WITH A CRAZY PARTY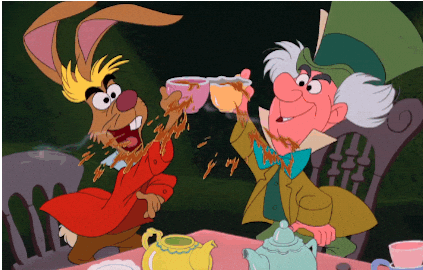 There's no other party I'd rather be at, to be quite honest.
CRUEL INTENTIONS
NAME A CHARACTER YOU CAN NEVER FULLY TRUST
Jude from The Cruel Prince. I love her, but ooooooooh she's good.
DRIVE ME CRAZY
NAME YOUR FAVOURITE "BOY NEXT DOOR" OR "GIRL NEXT DOOR" COUPLE
The perfection that is Billie and Davey and Janie Lee from Dress Codes for Small Towns. That's all I'll say for now. RTC. BUT GAH These three.
SCREAM
A BOOK WITH A MEMORABLE VILLAIN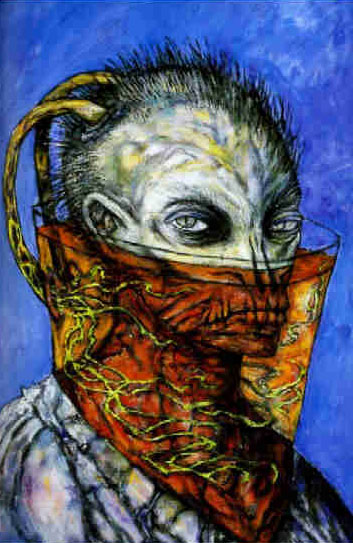 Christopher Carrion from Abarat. Oh my dear sweet Carrion. See that collar full of creepy stuff going into his noggin? That thing is full of his own nightmares, just so he can stew in 'em. YOU UTTER EXTRA GEEZER YOU ❤
THE CRAFT
NAME A BOOK WITH WITCHES
The Witches by Roald Dahl // Classic.
ALSO
Is any one else excited for the Hocus Pocus book (and sequel)?! Let's bring this post full 90s circle (the movie came out in '93 and it completes me (and every Octoberween viewing schedule)). I just, ugh, I can't wait to get my hands on that book!! (It's probably gonna be not… the best :), but I'm thinking I'll love it anywayyyyyy).
What 90s film is your fave that's on this post? I absolutely adore 10 Things I Hate About You and The Craft ❤
I tag: Lily // Jess & Teagan // The Orangutan Librarian // and you!!