Ha, I like that number 7 has fallen on a Friday the 13th. WOOOOOOO.
I like spooky and I like the next five picture books! (Which may or may not contain spooky, reader, have fun.)
1. Blue Ethel by Jennifer Black Reinhardt
Synopsis: Ethel is old, she is fat, she is black, and she is white. She is also a cat who is very set in her ways…until the day she turns blue!
Review: Blue Ethel, the picture book, the namesake, the rotund legend good at sticking her leggy out very far, is precious. She reminds me of my cat, particularly the routine/attitude/easily losing all sense of self-worth at snickers from fellow kitkats, (minus a black patch of fur on the underside of her face, a lil heartbuttchin.) Blue Ethel makes me anything but. It makes me yellow with glee, green with mirth, and purple because that's my favorite color. The narrative voice, the art style, the heartwarming message of friendship // this picture book is practically perfect in every way.
2. Pandora by Victoria Turnbull
Synopsis: Pandora lives alone, in a world of broken things. She makes herself a handsome home, but no one ever comes to visit. Then one day something falls from the sky . . . a bird with a broken wing. Little by little, Pandora helps the bird grow stronger. Little by little, the bird helps Pandora feel less lonely. The bird begins to fly again, and always comes back—bringing seeds and flowers and other small gifts. But then one day, it flies away and doesn't return. Pandora is heartbroken. Until things begin to grow . . . Here is a stunningly illustrated celebration of connection and renewal.
Review: Absolutely gorgeous lil fable akin to Wall*E or that movie about the sack cloth people. Sometimes beautiful can grow out of the sh*tty rubble we leave behind. At least, I hope so.
3. Ocean Meets Sky by The Fan Brothers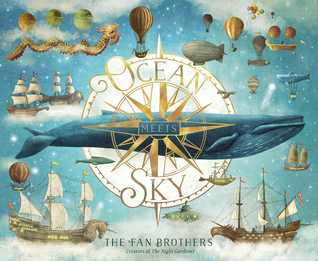 Synopsis: It's a good day for sailing.
Finn lives by the sea and the sea lives by him. Every time he looks out his window it's a constant reminder of the stories his grandfather told him about the place where the ocean meets the sky. Where whales and jellyfish soar and birds and castles float.
Finn's grandfather is gone now but Finn knows the perfect way to honor him. He'll build his own ship and sail out to find this magical place himself! And when he arrives, maybe, just maybe, he'll find something he didn't know he was looking for.
Review: This picture book is what soft moonbeam and sweet night air dreams are made of.  It's ships made from doors and beach scrap. Floating away with Little Nemo and orcus galacticus to treasure and a sky ocean of possibilities // everything little me loved and grew up with. I'm grown up now, and want to thank this picture book for bringing a slice of childhood back to me. It is a good day for sailing.
4. How To Make Friends With A Ghost by Rebecca Green
Synopsis: What do you do when you meet a ghost? One: Provide the ghost with some of its favorite snacks, like mud tarts and earwax truffles. Two: Tell your ghost bedtime stories (ghosts love to be read to). Three: Make sure no one mistakes your ghost for whipped cream or a marshmallow when you aren't looking! If you follow these few simple steps and the rest of the essential tips in How to Make Friends with a Ghost, you'll see how a ghost friend will lovingly grow up and grow old with you.
A whimsical story about ghost care, Rebecca Green's debut picture book is a perfect combination of offbeat humor, quirky and sweet illustrations, and the timeless theme of friendship.
Review: This book was written for the spookless romantics of the world, and by spookless romantic, I mean those of us who are sweet enough and would delight thoroughly in finding a ghost friend. It's full of puns and clever tips and tricks for making your ghost happy. It also has one of the most page-turning endings ever and I've never been happier for a "death" in a story before (except maybe Black Mirror: San Junipero). "Ghosts need friends, too" and you need this book in your life.
5. There Might Be Lobsters by Carolyn Crimi
Synopsis: Lots of things at the beach scare Sukie. Lots. Because she is just a small dog, and the stairs are big and sandy, and the waves are big and whooshy, and the balls are big and beachy. And besides, there might be lobsters. With endearing illustrations and a perfectly paced text that captures a timid pup's looping thoughts, here is a funny and honest read-aloud about how overwhelming the world can be when you're worried and how empowering it is to overcome your fears when it matters the most.
Review: This book has the best names, Sukie (the pup), Eleanor (the lil girl) and Chunka Munka (a lanky smiling stuffed monkey). It also has some of the best anxiety rep I've ever seen?? Go Sukie, have a fab day at the beach with your friends, you got this!! Also Chunka Munka is like the bravest stuffie I've ever met // let me just throw myself out to sea to encourage my pup friend to be brave, I might be a little animate, who knows, but let the freaking ocean take me if my friend can't be happy. Three cheers for Chunka Munka, my dudes.
I hope everyone is heading in to a fab weekend! I work (as is tradition), but I hope to post some reviews and readreadread and sleep (ha what's that) and see six black cats (I saw as many bunbuns on my walk the other day!!).
Other things I saw on that walk: a sidewalk rainbow, a Star Trek rainbow, two dogs, a woman complimented my hair, a mailbox bedoodled with aliens and cute space sh*t, and the sun set. Anyone listening to a good audiobook lately? I was re"reading" You Know Me Well by LaCour/Levithan and the narrators are PERF.
TTFN, Cade