A Court of Split Opinions and Promising Protags … ACOSOAPP… heh // Author: Sarah J. Maas // Rating: 3/5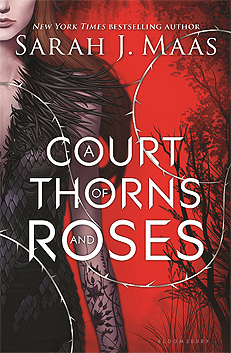 Synopsis: Feyre's survival rests upon her ability to hunt and kill – the forest where she lives is a cold, bleak place in the long winter months. So when she spots a deer in the forest being pursued by a wolf, she cannot resist fighting it for the flesh. But to do so, she must kill the predator and killing something so precious comes at a price …
Dragged to a magical kingdom for the murder of a faerie, Feyre discovers that her captor, his face obscured by a jewelled mask, is hiding far more than his piercing green eyes would suggest. Feyre's presence at the court is closely guarded, and as she begins to learn why, her feelings for him turn from hostility to passion and the faerie lands become an even more dangerous place. Feyre must fight to break an ancient curse, or she will lose him forever.
Once upon a time, a bearcat blogger named Cade read quite a few reviews from awesome, eloquent, impassioned and trusted reviewers about a lil book called ACOTAR AKA A Court of Thorns and Roses. (Well, actually she started reading reviews on the later books because this series started eep three years ago which GOLLY I lived in Pittsburgh then, what even is time, I think I've lamented this before ALSO I digress.)
Ahem, and those lovely reviews were as split as Betty Boop's hair part, or as divided as the Gan Jin and Zhang tribes in Avatar the Last Airbender, or as odd as my similes, but gosh darn it they were fun to read.
And I honestly didn't expect to read ACOTAR as soon as I have. (Case in point, my comments on Bentley's review, wherein I lamented eyeball licking and declared "I won't be picking this series up, lol.") Oh, how the turns have tabled.
So in the course of a couple of weeks, three things coalesced inside of me. One, an online book club full of fab peeps. Two, I have basically no self-control. Three, once I picked up the book, I couldn't put it down.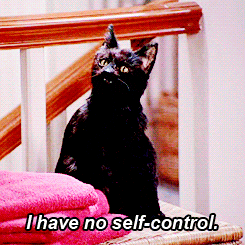 So, I read the thing, I quite liked the thing, and without further ado, here are some thoughts // SPOILERS below! Please skip to the Final Thoughts section for a spoiler free reaction.
Just High Fae Things // The Good
I quite like Feyre and I am utterly surprised by that // This book is told in first person, and that often doesn't work for me, and barring repetitiveness as the book goes on, I really liked Feyre's voice. A couple things in particular shook me about her: one, she was pretty badass (at times), building a bone ladder and pit trap out of a giant worm's previous victims?? Kevin Bacon who? and two, her relationship with Isaac, a young man from her village whom she admittedly used as an escape, was well done. It was really refreshing to read a female protag in a YA novel wish for nothing but the best for a previous love interest/fling and his new wife. I don't recall girl-on-girl hate in this book. And, although Feyre's woeful failure at solving that poorly written riddle was frustrating, I appreciate that this book gave us an illiterate protagonist. Feyre's struggle with protecting her family and allowing herself to have her own life was well done.
The setting // Yes, it's another human world separated from the magic world by A WALL setting but I enjoyed the glimpses that we got of the whole fae world structure. It's no Old Kingdom, but it kept my interest more than say The Hunger Games, where my questions about the state of the world never seemed to be answered.
That darn curse // It's ridiculous that Feyre's punishment for killing a fae was to be allowed to live in a mansion and paint whenever she wanted and be given stuff and things and teasing hints about how to get herself out of the whole mess. But when the reveal came that this was all a part of a curse that Tamlin was under (he must send out sacrificial soldiers to find a human girl who might fall in love with him after killing said fae soldier, all that in order to save his magic and land from dark creatures) and he just went along with it (giving him massive guilt), well, that's cool. I thought that tied things up nicely.
The Highest of Faes // The Great
Lucian // He was having the most fun in this story wasn't he? I really just like characters that are not trying to be anything than what they are, plus he's got some tragic backstory to boot. He's literally Lucian from The Underworld movie series, guys, I'm into this derivative snarky bastard.
Nesta the Badass // She resisted a fae glamour BECAUSE SHE WAS SO VERY MUCH PISSED OFF. I LOVE HER. Her rage at her circumstances drove a wedge between herself and Feyre, but that same rage allowed her to go FTS I'm out, and she was the only one in Feyre's family to even try to get through the wall to rescue her. I just, Nesta forever, my dudes. I was not expecting that plot twist.
The gifting of the gallery // I'm a sucker for love interests sharing something their love craves/breathes/lives for. So Tamlin sharing the art gallery with Feyre was pretty lovely. Not as beautiful as the classic Disney movie, which has the first library I fell in love with, but still.
Even lesser fae Are All Like "You Can't Sit With Us!" // The Bad
High Lord George Michael Tamlin Bluth // He's not much of a love interest in the end, is he? I could see how all the signs of creepy, possessive, emotional abuse are going to rear up in the sequel. As a standalone book, TamTam is serviceable, a bland Beast, but I really just imagined him turning his back meekly to every challenge thrown his way.
Anticlimactic villainess // Amarantha was scary for about 30 pages and then she just fell into a huge trap of villain stereotypes and her villainy sputtered out like yay verily. (IDEK guys I'm tired.) So much buildup for not much payoff. In the moment, I'll say. I'm pretty much done with the second book, and HOO BOY PTSD. Thanks, Ammy.
Them thar sex scenes // I *am* confused why this is shelved as YA at my library… but we don't censor things and parents can look this stuff up, but yeah, I was surprised by it… It's not… the worst sex I've ever read, but it was pretty cliché/repetitive. I will say I appreciated the f/// (ahem) out of Tamlin giving oral sex. *golf clap* If this were a movie, it wouldn't be all the brutal violence going on that would get it an NC-17 rating, it would be for a woman receiving sexual pleasure.
Repetitiveness // As this series goes on, I fear the writing will falter more and more… into just copy-paste territory. Everyone is either a bastard or a prick to Feyre, so that was just the tip of the annoyance iceberg.
Rhys' Pieces // In regards to a certain eyeball licking scene and to the character of Rhys in general, I didn't really get him. I was questioning how he ever became a likeable dude, but then I read ACOMAF and well!!! Rhys in ACOTAR: confusing, weird, and not my cup of tea. Rhys in ACOMAF: compelling, encouraging, and #bae ?? MWAOTGDA: Me with all of these gosh dang acronyms.
Final Thoughts
Overall, I quite liked this book. I LOVED Feyre, Lucian, and Nesta. They are interesting, fun, surprising characters to me. The setting was pretty great, while the plot was mostly derivative, but it had some tweaks here and there I appreciated. I definitely wanted to read more about these characters by the end of it.
I will say I'm a bit weary of going forward (and yes, I pretty much finished the 2nd book and liked it, too, review soon-ish) but I've read such HILARIOUS and scathing and fearful-making reviews of the later books, aheh… Well, honestly, I had fun reading this book and making up my own mind. This first book was easy to like and wasn't overshadowed by anything problematic in the text.
 Have you read A Court of Thorns and Roses? How did it go? Do likeable characters make up for plot issues? Is there a different fae story I should be focusing my attention on?