This batch of picture books is diverse and a couple are LGBTQIAP+ themed and I lovelovelove them all to pieces and I hope, if you ever get the chance to check them out, that you love them, too.
1. Neither by Airlie Anderson
Synopsis: In this colorful and touching story that celebrates what makes each of us unique, a little creature that's not quite a bird and not quite a bunny–it's "neither"–searches for a place to fit in.
In the Land of This and That, there are only two kinds: blue bunnies and yellow birds. But one day a funny green egg hatches, and a little creature that's not quite a bird and not quite a bunny pops out. It's neither!
Neither tries hard to fit in, but its bird legs aren't good for jumping like the other bunnies, and its fluffy tail isn't good for flapping like the other birds. It sets out to find a new home and discovers a very different place, one with endless colors and shapes and creatures of all kinds. But when a blue bunny and a yellow bird with some hidden differences of their own arrive, it's up to Neither to decide if they are welcome in the Land of All.
This colorful, simple, and touching story promotes diversity and offers a valuable lesson to the youngest of audiences: it is our differences that unite us.
Review: I'm a huge fan of letting kids, all kids, different, strange, weird, wonderful kids, know that they're wanted and loved. If you're a curmudgeon and think kids are being coddled and made to feel "special," you can f/// off. Neither is a beautiful story about a lil rabbit-duck beastie who doesn't fit in and others tease them so they run away… and find themselves in the Land of All which is bright and colorful and sweet. There are bearbats there. 😀 This book is very much happy-making and unique.
2. Kaito's Cloth by Glenda Millard
Synopsis: With the winter days approaching, young Kaito journeys to the Mountain of Dreams to watch her butterflies soar one last time. However, when she reaches her destination after an arduous three-day trek, she is too late. Her butterflies have died. "Weep no more," says the Lord of Flight, creator of all butterflies. "Only the wings are stilled. Flight is eternal." Inspired, Kaito has an idea: She takes a silver needle and soft spider's silk, and sews a pair of wings that take breath in the wind. With her kite, now everyone can enjoy the beauty of a butterfly's flight all winter long.
In Kaito's Cloth, Glenda Millard and Gaye Chapman offer an emotionally resonant and visually arresting story about the beauty of butterflies, and the resilience of the human spirit.
Review: There is so much detail in this book – it's gorgeous! The Lord of the Night, butterflies, the magic of flight, spider's silk as strong as love // this picture book is populated with lovely faerie tale concepts. It's full of hope and perseverance and dreaming. Highly recommend.
3. I Am Enough by Grace Byers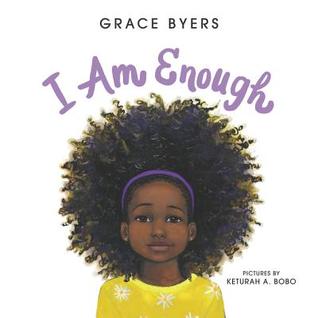 Synopsis: I Am Enough is the picture book everyone needs.
This is a gorgeous, lyrical ode to loving who you are, respecting others, and being kind to one another—from Empire actor and activist Grace Byers and talented newcomer artist Keturah A. Bobo.
This is the perfect gift for mothers and daughters, baby showers, and graduation.
We are all here for a purpose. We are more than enough. We just need to believe it.
Review: "Like the rain, I'm here to pour // and drip and fall until I'm full." Absolutely beautiful message in this little picture book. As an adult, sometimes the only way you gt through the day is because of the little things. This book contains great little-big reminders of how we are all different, all worthy, and all enough. Simply, lovely.
4. Ganesha's Sweet Tooth by Sanjay Patel
Synopsis: The bold, bright colors of India leap right off the page in this fresh and funny picture book retelling (with a twist) of how Ganesha came to help write the epic poem of Hindu literature, the Mahabharata. Ganesha is just like any other kid, except that he has the head of an elephant and rides around on a magical mouse. And he loves sweets, especially the traditional dessert laddoo. But when Ganesha insists on biting into a super jumbo jawbreaker laddoo, his tusk breaks off! Ganesha is terribly upset, but with the help of the wise poet Vyasa, and his friend Mr. Mouse, he learns that what seems broken can actually be quite useful after all. With vibrant, graphic illustrations, expressive characters, and offbeat humor, this is a wonderfully inventive rendition of a classic tale.
Review: This book is so colorful, so detailed, so CUTE, it warms my heart. Full of humor – I LLOLed, literally laughed out loud, like when Ganesha laments his broken tooth and that everyone will laugh at him, Mr. Mouse answers "Everyone loses their teeth. And besides you already have an elephant's head and your friend's still love you." This is a sweet, loosely inspired take on a Hindu classic.
5. The Answer by Rebecca Sugar
Synopsis: Why would a Gem turn against her Homeworld to protect the messy, pointless planet Earth?
What would make an aristocratic Gem risk everything for a common guard?
And how could a humble soldier alter the track of fate forever?
It's up to Sapphire and Ruby to find The Answer.
Review: This story is brilliantly told. I've never read any book quite like this, with two narratives occurring simultaneously on the page (past narrative in the middle, and Ruby and Sapphire's reactions framing it and even affecting it). Most likely, you'll want to be a Steven Universe fan to love or understand this book, but also, if you happen to pick it up and like it at all QUICKLY drop everything and go start binging one of the most unique, gorgeous, diverse, complex, wonderful shows ever.
"You… changed the story?" It's just… brilliant. This will be a picture book I'll buy for my own collection. Love is love is love is love and this little universe that Sugar created is beautiful. I hope we all work a little bit each day to change our stories for the better.
My heart is so full, my dudes, after reading these. If you have a June TBR, how's your progress coming along? *slides backwards into the bushes like Homer.gif*