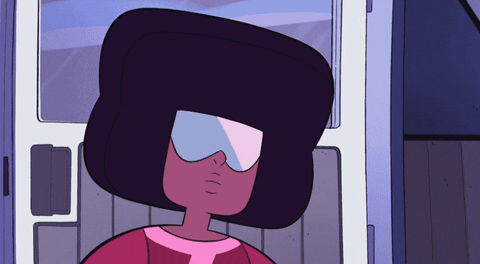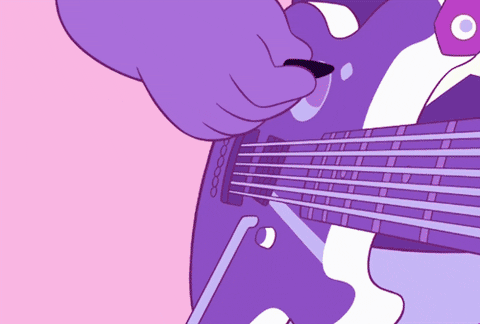 Ahhh look at that lovely stack of gifs featuring shows that feature ladies loving ladies!* I hope everyone is having the happiest of Prides!** I read a lot of graphic novels and have shared a few so far on this blog and I really really am EXCITE to share my Top Five Graphic Novels with F/F Relationships. I think graphic novels are a delightful medium, full of details and beautiful art, and it can give a complex story a chance to breathe and bend with the unique interplay of words and pictures. And it's definitely a medium that has always been on the forefront of diversity and change and inclusivity.
*I went with the following shows (Steven Universe, Legend of Korra, and We Bare Bears) because it was much easier to do a gif stack with them, ya know. So not graphic novels, but def gay and diverse and def wonderful storytelling.
**I'm going to take a moment to say I identify as panromantic grey asexual. Never fear it's in small script; I just didn't think it was the point of this post. And it is true // I still feel like maybe I shouldn't claim it // but it also makes the most sense to me and my past relationships and my hopes for the future. ❤
Without further ado, here are my Top Five and please forgive me if I gush too much.***
***Muahaha the love I have for these graphic novels cannot be contained.
1. Fun Home by Alison Bechdel
Synopsis: In this graphic memoir, Alison Bechdel charts her fraught relationship with her late father.
Distant and exacting, Bruce Bechdel was an English teacher and director of the town funeral home, which Alison and her family referred to as the Fun Home. It was not until college that Alison, who had recently come out as a lesbian, discovered that her father was also gay. A few weeks after this revelation, he was dead, leaving a legacy of mystery for his daughter to resolve.
I first read this story in college and it was brilliant and still is. It's a deeply felt, darkly told, memoir about the relationship between Alison, who comes out in college, and her closeted father. It's a hard graphic novel to read because it's just so honest and raw and sometimes when I read those descriptors I'm weary of the story within, but it's really just so beautiful and I can't recommend it enough. It also inspired a musical of the same name and it's just as brilliant, the snippets that I've seen. You can watch below the scene where a young Alison sees a butch lesbian and feels something she almost can't explain, but the song is so lovely and true, it brings to life a relatively small moment in the novel.
This lil article also makes some great points recounting the story behind the song's creation and inclusion in the musical: Why Ring of Keys Was the One Song Fun Home's Creator Didn't Want to Write. Can you feel my heart saying hi?
2. As the Crow Flies by Melanie Gillman
Synopsis: Melanie Gillman's webcomic about a queer, black teenager who finds herself stranded in a dangerous and unfamiliar place: an all-white Christian youth backpacking camp.
I love how sweet and sour and slowly momentous this story is. As the Crow Flies focuses on Charlie, a queer 13-year-old black girl who is dealing with her feelings about God and her simmering desire to express all of her roiling observations about the privileged white Christian women she is stuck with for a week at camp. There is so much conflict bubbling inside Charlie and I can definitely relate to the yearning to speak up and then missing that moment and spiraling out about it. I'm so thankful Charlie had someone to speak to, a trans girl named Sydney, and their conversations are so lovely and I just want them both to be happy. They have a lot to teach each other and that is the heart and soul of this book: how honesty and openness can lead to better connections between us.
I appreciated the nuanced way the camp leaders were portrayed, Bee, the mother, and Penny, her 18-year-old daughter. Bee is pretty oblivious to her micro-aggressions, her comments that are construed negatively by Charlie (and myself), but she clearly cares about her girls and doesn't just go to bed at night thinking she's the bees knees. It will be interesting to see how she reacts to concerns being brought to light in the second volume. (I read that this will be a two volume series, although I'm not sure when the second will get released; the author's website hasn't updated the webcomic in a while but they've been active on Twitter.) Anywho, her daughter Penny is more aware of the way words matter and I really liked the relationship between her and Charlie.
The art, particularly when it's focused on the natural world, is lovely. I'll definitely be reading more from Gillman. Their characters are so well-written in a relatively short novel. I feel like I knew these girls and wouldn't mind trekking across a mountain with them, even with an intimidating, weird, and mysteriously exclusive women's ceremony hanging over the trip.
3. Bingo Love by Tee Franklin
Synopsis: Bingo Love is a story of a same-sex romance that spans over 60 years. A chance meeting at church bingo in 1963 brings Hazel Johnson and Mari McCray together. Through their formative years, these two women develop feelings for each other and finally profess their love for one another.
Forced apart by their families and society, Hazel and Mari both married young men and had families. Decades later, now in their mid 60's, Hazel and Mari are reunited again at a bingo hall. Realizing their love for each other is still alive, what these grandmothers do next takes absolute strength and courage.
From TEE FRANKLIN (NAILBITER's "THE OUTFIT," Love is Love) and JENN ST-ONGE (Jem & the Misfits), BINGO LOVE is a touching story of love, family, and resiliency that spans over 60 years.
What do you get if you mix a dash of The Notebook, a healthy heaping of the Black Mirror episode San Junipero, and a dollop of Grace and Frankie? One of the sweetest love stories spanning decades ever. I can concede that some of the dialogue is fraught and/or stilted, and some of the pacing might be off, but it's such a hopeful, real, powerful story. It was timing and circumstances (coming of age in the rigidly homophobic 1960s) that kept Hazel and Mari apart for so long. And, I just, I loved that they got to fall back in love suddenly and all at once. I do think that ridiculous type stuff does happen // you don't see someone for years and then when you finally reconnect, it's like lightning, like no time has passed at all, but you've carried a lot of change and growth with you, and sadly-fortunately, the passage of time made all the difference. It's a beautifully drawn story and a quick read and I hope you check it out, because it's a reminder that life and love don't stop when you're no longer a 20- or 40-something. Second chances are rare, but if you get 'em, you darn well live them to the fullest.
4. Lumberjanes Vol. 1 & Beyond // Created by Shannon Watters, Grace Ellis, Noelle Stevenson, and Brooke Allen
Synopsis: At Miss Qiunzilla Thiskwin Penniquiqul Thistle Crumpet's camp for hard-core lady-types, things are not what they seem. Three-eyed foxes. Secret caves. Anagrams. Luckily, Jo, April, Mal, Molly, and Ripley are five rad, butt-kicking best pals determined to have an awesome summer together… And they're not gonna let a magical quest or an array of supernatural critters get in their way! The mystery keeps getting bigger, and it all begins here. 
One of my favorite things about this series is how the characters' queerness is just there. It's not a big deal, not a coming out story, not a "let's get y'all to feel something about these characters before we let y'all (cishetwhite folks) know that something is GAY" story.* It's a definite part of these characters' identities, but it's just ONE part.
This series is, *clutches one of the volumes to my chest,* SO F///ing good. It's got supernatural beasties and mysteries and girl friendships and girl LOVE and trans girls and PUNS ("Why are hipster yetis so odd? Because they can't even.") and riddles and cool nature-y sh*t and fantastic diverse character designs and body shapes and I JUST LOVE ALL MY GIRLS OKAY. It is so unique and FUN and imaginative and engrossing. It's RIDIC.
These girls are all so fully realized and different, I had no trouble telling them apart or kind of anticipating what they would do in a given situation as the series went on. I'm probably most like Ripley because she is so unobservant and excited about anything possibly strange and unusual and ready to fall into anything weird. (Okay, that's my INFJ wanting to live in an ENFP world rearing its head, but still.) Here are just one or two of my fave things about each girl:
Jo // she knows her math and can hop skip jump her friends to safety and I need her to help me with basic calculations thx hugs and also she's so brave and self-sacrificing
Molly // her raccoon hat is ALIVE and named Bubbles and she's an anagram archery queen
Mal // (her hair!!) also her inner conflict at not being as brave or strong as the other girls just got to me #hugsformal #yeahletsweartuxedos
April // WHAT THE JUNK she's the funniest and the perfect Pungeon Master we don't deserve
Ripley // it me. Also she so smol and willing to share her cookies and I live for her explosive excitement in regards to weird sh*t
Also there's a werebear woman with such a backstory and persnickety personality. I'm SOLD. Please give this series a shot (especially if you like Gravity Falls or Steven Universe) because it's such a special adventure. It makes me mad smile and every way a girl can be is explored and valid and I am hearteyes.emoji.
*I don't say "y'all" IRL y'all. I do however say "loo," "Ain't that just the way," and "biscuits" or "biscuits and gravy" (as a swear) on the regular. And whenever I see a pineapple, I let people know I found the pineapple. Anywho.
5. Moonstruck by Grace Ellis
Synopsis: Werewolf barista Julie and her new girlfriend go on a date to a close-up magic show, but all heck breaks loose when the magician casts a horrible spell on their friend Chet. Now it's up to the team of mythical pals to stop the illicit illusionist before it's too late.
I WANT TO LIVE IN THIS WORLD. As much as I love horror, my heart is forever ready to fall into just a lil bit spoopy worlds. Moonstruck is quite literally the most beautiful gay AF diverse graphic novel I've had the pleasure to read in a long time. Every character is amazing and the artwork is utterly unique and lovely and I died with every adorable facial expression. I have one tinyass disappointment throwaway // that the psychic is named Cass(andra) #clicheeeeeee but BESIDES THAT this is such a wonderfully crafted world. It's populated with nonbinary centaurs and too damn cute lesbian werewolves and ghosts and tricksy foxes and punnerific plant ladies oh my, and has cameos from the likes of The Babadook and Mothman. I JUST every panel is a feast for the eyes and every character is a menace to my heart and soul. I am so so pleased to have read this graphic novel and can't wait to dive back into the world. Will you join me?
There they are: five beautiful, beautifully written graphic novels featuring f/f relationships and diverse casts. Have you read any of them? Please let me know what you thought and if you have any recommendations for me! Hope everyone is having a lovely June with some fab reads ❤