The wonderful Kay Wisteria @ Hammock of Books nominated me for this award! Thank you 😀
THE RULES
Put the award logo/image on your blog
List the rules.
Thank whoever nominated you and provide a link to their blog.
Mention the creator of the award (Okoto Enigma @ Okoto Enigma's Blog)
Tell your readers 3 things about yourself and answer the questions given by the person who tagged you
Nominate 10 – 20 people
Notify your nominees by commenting on their blog
Ask your nominees any 5 questions of your choice; with one weird or funny question (specify)
Share a link to your best post(s)
Three Things About Me //
My favorite job I've had is at a library as a circulation clerk. I'd love to be a published author someday. I would also love to be a librarian, but that's a whole fine kettle of fish for another day.
My senior thesis in undergrad was a collection of interconnected short horror stories and a defense of the final girl in film. // Has anyone seen Behind the Mask: The Rise of Leslie Vernon? Highly recommend 😀
I've lived in Spain, England, Scotland (did all of my international travel before I was seven); Ohio for 15ish years; Pittsburgh for one (loved it); and now am based in Indianapolis. I've visited Portland, Oregon, the last couple of summers and would love to move to the Pacific Northwest before I'm 30 ❤
Questions //
I'm going to see how I fare answering the questions that Kay got from these lovely ladies:  Sophia from Sophia Issma Writes, Kelly from Just Another Book In The Wall, and Maria from Bookgraphy.
Sophia's Q's //
1. What is the last book you read that made an impact on you?
I'm going to have to go with The Long Way to a Small, Angry Planet by Becky Chambers. It got me out of a reading slump, made me hope (for myself, for connections between all sapient beings, for stellar food stuffs), and it was just a truly lovely read after several stressful months.
2. What is the strangest thing you've ever eaten?
Ummm, probably a tie between faux haggis (It was a meatloaf-y type thing with chicken livers and something else and strange texture with pine nuts I think?? It was actually pretty good, yummy spices, but I'll never eat it again as I'm slowly making my way away from meat) and avocado crab buttermilk soup (It was a d i s a s t e r and supposed to be served cold and it was just the hugest mistake. Don't use one of those "I have these ingredients what should I make?" sites, just no.)
3. Name two things about blogging that you love and two things that irritate you.
Two things I love: All of you, you're wicked awesome people; learning about new books!! My TBR be damned MUAHAHA // Two things that irritate me: Um, figuring out WordPress formatting maybe? Sometimes it's easypeasy, sometimes I'm like how I am with my phone, utterly 84 years old and confused lol (I just learned about hotspots the other day, my dudes, I just never pay attention or care really about phones?? I only got a smartphone last summer, I'm a n00b); honestly I'm a wee summer child and enjoying myself here, so let's say my lack of time off irritates me more now because I want to do all that I was doing before in my free time plus devour all the books
4. Take Buzzfeed's: Everyone Has a British Food That Matches Their Personality Quiz and post your results, food and description included! 
My dudes, if I was a scotch egg, this would happen:
5. Recommend a book in one paragraph (3 sentences max)!
Do you love Avatar the Last Airbender? How about unique magic systems, the Renaissance, animal soul companions, golem/empty vessel -esque soldiers that become so much more? If you're looking for a new middle grade adventure, check Rebel Genius by Michael Dante DiMartino out!
Kelly's Q's //
1. What is your favorite bookish childhood memory?
Discovering classics through their adaptations. I somehow was against the Disney animated film Treasure Planet when I heard about it as an 11-year-old – like full blown hipster "How could you ruin a classic that way oh my gawwwwd" – and I had never read Treasure Island. (The other funny part of this story is I now have a shoulder tattoo dedicated to this wonderful perf Top 5 movie.) Anyway, my dad never listens to me and brought home the DVD and I fell in love with it while he fell asleep and then I read the book and am now obsessed with Black Sails. Everything is pirates and wonderfully written relationships and OCEAN and gold and ADVENTURE. Also I wasn't able to get into Pride and Prejudice until I saw the 2005 Keira Knightley version – utterly gorgeous perfect adaptation IMO – finally, I understood what they were saying and got the humor and I've read it several times since middle school and it's just lovely. I need to read more Austen, my dudes.
2. What's your favorite and least favorite book-to-movie adaptation, and why?
Faves: the aforementioned P&P and Treasure Planet, The Outsiders, The Secret Life of Bees, Fight Club, the Hallmark Alice in Wonderland, Love Simon, 30 Days of Night, The Lord of the Rings, A Scanner Darkly, The Perks of Being a Wallflower // all are pretty much perfect in my eyes page-to-screen adaptations and some are better than the books because of tweaks or changes that fit with my personal preferences.
Not Faves: A Series of Unfortunate Events (just way too much to cram into one movie and Jim Carrey was miscast (Olaf is legit scary besides being a hilarious narcissistic flimflammer) I did like the rest of the cast tho); and The Lovely Bones (Not a terrible movie on its own but it missed so much of what made the book heartbreaking and beautiful and interesting)
3. If you were arrested with no explanation, what would your friends and family assume you had done?
Probably freeing a bear from the zoo. First step towards ruling the world. Or at least getting free jalapeño poppers in an Arby's drivethru.
4. Would you rather be a hero or villain for a day, and what would your superpower be?
I'd rather be an antivillain/vigilante/chaotic neutral type. I'd be a teleporting, shapeshifting bear person. Steal from the rich, give to the poor, do no harm (mostly) but take no sh*t, that sorta shtick.
5. What is the most inspiring book you've read?
Maria's Q's //
1. Who are your Top 3 Book Boyfriends or Girlfriends?
Um, I ship stuff a lot but don't think I've really thought of a character in this light? Buuuuut here we go: Claidi from The Claidi Journals by Tanith Lee, Marko from Saga by Brian K. Vaughn and Fiona Staples, Vasiliy Fet from The Strain by Guillermo del Toro and Chuck Hogan (which, whoops I'm cheating with that one, because I still need to read the books, but I've been finishing up the telly series and it's always nice to have Kevin Durand on my mind 😀 ).
2. Using those top three, choose which one you'd want to make out with, one you'd marry, and one you'd have to kill.
UM OH GOD ya know what I'm switching that last one to "have a drink with" because je refuse and also this is all just supposed to be fun, ja feel?
Kiss: Claidi // Marry: Fet // Drinks with: Marko (which actually… I could kill Marko out of these three BUT I WOULD BE NOT COOL WITH IT LIKE WHAT SITUATION COULD POSSIBLY BLARGH)
3. EXPLAIN YOURSELF! (Referring to the above question)
Claidi is brilliant and sweet and I'm betting on her being a good kisser and she'd be lovely to talk to forever afterward and if we were good friends at the time of our makeout sesh I'll bet she'd share her thoughts with me from her journal because she writes about errything.
Fet is the bomb dot com. I'm a sucker for 6″6′ badass compassionate snarkers. He's kind and I'm into that. Also somehow able to survive 1000 run-ins with worm-spewing vampires, so cool. Coolcoolcool.
Marko would be the MOST FUN to go have a night on the town drinking with. We would get into so many SHENANIGANS and Alana would be like "y'all are dorks."
4. How badly do you hate me right now for making you kill one of your book boyfriends/girlfriends?
MUAHAHA I cheated.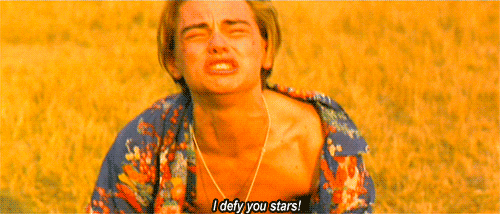 5. What would you say to the book boyfriend/girlfriend you had to kill right before you did it?
Aha, lol, see above, plus "Ruhroh" because Alana would be right there to avenge him.
So I prolly wrote way too much which I'm not sorry for lol, all these questions were fun and fab, but I'm also not sure whom to tag, so apologies there. If you want to do this tag, let me know and I shall tag you properly within my post 😀 and here are five questions for you!
What is the weirdest reaction someone has given you in regards to a book you were reading?
What's the last book you DNF?
If you could have and would like a bookish tattoo, what would it be?
Date, marry, have a drink with the last three villains/antagonists of the last three books you read? (Ha I just rly like this game)
Bookstagram or Booktube?