So I thought I wouldn't get to this tag for a while, but like a good lil procrastinator/bad lil prioritizer, I did it! It was fun, lol. Be sure to check out Bentley's answers! His post inspired this one, and his blog and Instagram are mad lovely aesthetic.
Reading on the Bed or the Couch?
Bed, 100%. I finally have a queen bed and too many pillows and it's fab. My other choices are a leather couch upstairs and a couch in the den area which has laminate floors over concrete so it can get pretty cool in there. Ooooh, there is now a really comfy glider armchair, but I mostly sit in that when I'm playing The Last of Us for the 7th time, lol.
Male Main Character or Female Main Character?
Golly, this is very variable, ya know! Yea verily, buuuuut if I just had to choose, female MC. I find them more often to be relatable, sympathetic, hooman, across the genre board.
Sweet Snacks or Salty Snacks while reading?
Um, I tend not to eat while reading, unless it's on a break at work and I have the book pushed out at arms length on the break room table, and I'm usually using a knife and fork, and my phone's propping the book open, all because I've seen enough gross things in library books to know that some people will eat anything over a book and it's …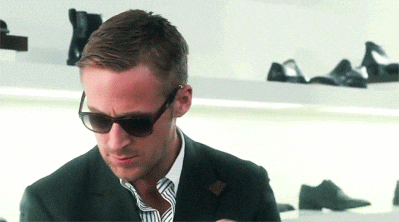 I don't know why I'm still surprised by stuff. Every returned book is this gif reaction waiting to happen, lol.
So, yeah! I drink tea and coffee, though, noice, to have something to keep me going while I'm engrossed in a story.
Trilogies or Quartets?
Trilogies, please! I don't understand bloating up a story to make more money. I don't. It can ruin a good thing and then you have all this extra dross and that's not fun to be proud of probably (personally) I think?? I give Scott Westerfeld a pass, though, lol, with his Uglies series. Started as a trilogy, and then the fourth one came out (soon to be more, ahhh I'm scared), and he dedicated it to "everyone who wrote to me to reveal the secret definition of the word 'trilogy.'" HA. But also it continued the story of the world, and gave us glimpses of previous characters, which was the right move. Felt more organic, a natural progression, rather than a cash grab or stale narratively. I just freaking love Extras.
Reading First Person or Third Person POV?
3rd, my dudes. I've just found it rare myself to find a first person POV that I thoroughly enjoyed. I always want to know more about the world a character is in, and I think you lose that often with first person.
Reading at Night, or in the Morning?
Hmmm, not so much ever in the morning, I usually watch a show with my warm cuppa something. I used to get up hella early to really allow myself to wake up, but for the last few months I just can't seem to jump or sloth my way out of bed at my alarm since my sleeping is so irregular. ANYWHO, I read whenever I can after that. At work on breaks, on my phone, the evenings I have off from other things, I'm curled up with a book and some dried mango from Trader Joe's and/or tea, just having adventures from my own little corner of the world.
Libraries or Bookstores?
I work at a library and they are WONDERFUL F R E E spaces, so I'm going to take this question as where would you gladly spend your free time, and for that I would say BOOKSTORES (even before my library gig). I can get lost in a bookstore, especially a used one, for HOURS. And it's like no time has passed at all. And with a bookstore, whether it's a fancy chain with a coffee shop over thar or a used mom-and-pop stand with books piled to the rafters and a cat slinking around corners, THE SMELL is so much better in a store versus library. Plus, you get to keep what you find. YES.
Books that make you laugh or cry?
Hmmm, I mean sometimes books make me literally laugh out loud and that's fab
and, although I don't really physically tear up at sad-making stuff, I definitely do this:
and want to share that book with everyone in my path. So, books that make me flail-cry-gross-sob-internally FTW.
Black book covers or white covers?
Yeah, I'm going to go with black covers, they're just nicer overall, easier to keep clean, and actually, so many of my books have black/dark covers already, whoops.
Character driven or Plot driven?
Definitely character driven. If I can't believe this character is a fully realized person, if the writing is weak or the intent is to create a blank-slate character so it's "easier" for you to project yourself into the story – nope, no thanks, not for me. I don't have to relate to the character necessarily, but it's nice to feel like you know them.
Yay, another bookish tag down! Feel free to do this game of this or that and link to me in the comments if it strikes your fancy! Happy reading!!