Picture me, a little over two weeks ago, and generally:

So, I'm not trying to be facetious; Stitch is adorable so I'll never pass up a chance to post him; and the gif is a true example of my headspace sometimes. I often don't have the most level internal emotional track. I have intrusive negative thoughts and I overthink too much and I beat myself up about things outside of my control. (I seem to do better at my jobs – distractions, and they're full of good people and books and samples (I just tried jackfruit fajitas the other day at Trader Joe's YUM)). I've gone through months of ups and downs and I do have depression and I'm not sure if I'll ever get through all the ways my mind trips me up, B U T I've also been hoping to be hopeful.
I want to be happier and healthier and productive (even if just for myself).
And this blog is, quite honestly, helping me do that.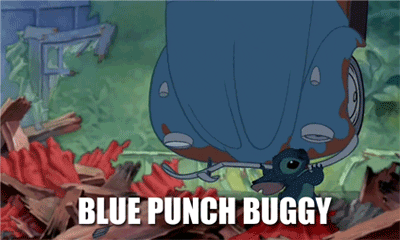 Rules:
Include that tidbit about who created this awesome award; theCramm
Mention the person who nominated you
Share three things that motivate you to blog
Share three people who inspire you to blog
Share one thing you hope to do that will improve the world
Answer your challenge question
Nominate 10+ bloggers and give them a fun challenge question
Thank you to the wonderful Beth @ Reading Every Night for my very first tag! Even though this blog is so young, I'm excited to share my answers to why I'm joining this shindig 😀
Three Things That Motivate Me to Blurg:
1. It's Happy-making // as mentioned above, I can get lost in the doldrums and pain of depression. I don't really want to go on about that here. I reached somewhat of a turning point after I had a car accident around the New  Year – I wrote up a giant 2018 Book Challenge for myself (which I'll share soon), and resolved to blog about books because books do make me happy, darn it. But I still went months before actually getting down to it because life, work, bills, radarada S T R E S S and ahem. I was slow to get here, but now that I am, I feel like I've finally hopped out of my holey dinghy and am on a lovely houseboat, waving at other readers as they float by on their unique vessels. There are carefully stacked piles of books here, and tea, a light summer breeze, a kitkat* or four, and Cat Stevens playing softly from below deck. [*I call cats "kitkats" and dogs, regardless of age, puppers]
2. I want to Write again and read more like I used to // I have several of my own projects going on, and every now and then I scribble out some poems. Just the act of writing a review post or a Top Five or anything on here – It's helping me! Get the creative whatevers going, get excited about the next writing/reading/posting opportunity. I've had several years of stagnation with my own writing, but I'm looking forward to sharing some here (eventually), and I've already written more the last two weeks than I have in years. I've also really enjoyed reading some posts from other writer-bloggers on here. I don't really know why now or what the Berk is going on, but I'm not gonna question it.
3. All of You // the Bookish community is a beautiful place, a virtual haven. I've chatted with some lovely people from all over in the past couple weeks and I've read so much – such wicked funny rants, and thoughtful discussion starters, and gushing, sincere waterfalls of love about a recent read. It's been a delight, and the optimist in me is currently squashing the pessimist in me down into a teapot, à la what happens to the Dormouse in Alice in Wonderland. (I don't know if this metaphor works, but I like the image lol.)
Three People Who Inspire Me to Blog:
Kellie @ kelliesbookshelf // One of the first people I started chatting with and she's super sweet and her reviews and Insta are fab!!
Emma @ emmareadstoomuch // Honestly, the first blog I followed for months before I started blogging. Her reviews are HIGHlarious, her bookshelf is #goals, and she's honest as hell, it's great.
Mel @ meltotheany // the nicest bean and her reviews are really well done; I've gotten so many good recommendations from her already, I'm a happy bean 😀
One Thing I Hope to Do That Will Improve the World
Share stories // whether that's reading to someone, or recommending a book, or writing something that moves someone, or making someone laugh… we all live on stories. They make the world bearable.
My Challenge Question:
You come across a time machine however it can only go either into the future or into the past, not both, and your first trip sets it in that mode forever. Would you choose to travel into the future or travel into the past?
F//////////dlksldjfsdj;sfkjds;f this one's tough. Probably the past, because there's stuff I could fix in my own life / too many possible futures to choose from and I'd mess it up anyways. I'd love to be able to go back and see Queen live or watch Back to the Future in theatres or have a chat with Jane Austen or Sylvia Plath or Tanith Lee.
I'm not sure who to tag?!? Lol. I'm so new, and not following that many people yet, and don't wish to doubletag anyone soooooo answer my challenge question in the comments below if you'd like!!
What is one of your earliest reading memories? (I remember my mum reading me Black Beauty and Caddie Woodlawn and just being drawn in, not only by the story, but by my mum forming the words and her soothing voice and the way she smelled and how it felt to be curled up beside her.)