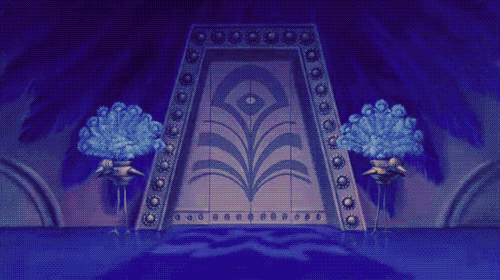 Hullo! I'm back with five more freaking fab picture books because I LVOE THEM okay?? Ok. (I'm also in a really f///ing good mood: the sun is shiny, my hair is soft, my cat is getting all up on my keysdfs;j ; ahem being cute and sh*t, and job #1 was fun and job #2 is gonna be a short shift so ANYWHO I hope everyone is having a lovely day, too, and let's get down to this.)
1. Six Dinner Sid by Inga Moore
Unbeknownst to each of his owners, Sid the cat lives with six different people on the
same street. By doing so, he's able to get six different dinners every night! He also answers to six names, sleeps in six beds, and maintains six different personalities.
All is perfect for Sid – until the day he catches a dreadful cough. Then it is off to the vet not once, but six times! Inga Moore'shumorous illustrations capture Sid's sly nature.
Review: Sid is a smart cat, and adorably drawn to boot. I could definitely see this as a lil animated story, given how different his families are in the book, and what different roles Sid fills for each home – lots of potential for exploring diversity there. As is, I can say I've read this book several times and been smitten each one.
2. Nobody Likes A Goblin by Ben Hatke
Synopsis: Goblin, a cheerful little homebody, lives in a cosy, rat-infested dungeon, with his only friend, Skeleton. Every day, Goblin and Skeleton play with the treasure in their dungeon. But one day, a gang of "heroic" adventurers bursts in. These marauders trash the place, steal all the treasure, and make off with Skeleton—leaving Goblin all alone!
It's up to Goblin to save the day. But first he's going to have to leave the dungeon and find out how the rest of the world feels about goblins.
Review: Goblins and Honk-Honks and racial prejudice, oh my! // Absolutely adorable, fab character designs, and I'll never leave a looted cavern in an RPG with quite the same blasé attitude again.
The art style in this is truly one of the most beautiful I've seen. The expressions and level of detail and colors – what a wonderful fairy tale.
3. Duncan the Story Dragon by Amanda Driscoll
Synopsis: A charming story about the joys of reading that is perfect for fans of Dog Loves Books and Stellaluna.
Duncan the Dragon loves to read. When he reads a story, his imagination catches fire! Unfortunately…so does his book.
Fire breath is great for roasting marshmallows, but it's not so great for reading. Duncan just wants to get to those two wonderful words, like the last sip of a chocolate milk shake: The End. Will he ever find out how the story ends?
This bright, warm tale champions determination, friendship, and a love for books. And milk shakes! // Lordy these synopses are longer than the books sometimes //
Review: Duncan is a dragon that wears sneakers and just wants to finish a story without belching flame in his overexcitement and destroying books – I'm in love already with the lil guy! Very sweet tale that's not just about the joy of reading, but about sharing literary adventures with friends, too.
4. Big Brown Bear's Cave by Yuval Zommer
Synopsis: What will Bear do when he fills his cave so full of stuff that there's no
room at all — even for his friends? 
Big Brown Bear finds a lovely new home, a dark and empty cave just right for a bear. Then one day he wanders into the city and discovers that humans also have caves, which they call garages and fill with all sorts of stuff! Bear decides he must do the same — but soon there is no room in his cave to stretch or scratch or do any of the things that Big Brown Bear likes to do, including seeing his friends. Maybe it's time for all the stuff to go!
Review: This is a lil story about a big brown bear stealing from humans, struggling with his hoarding lifestyle, and then finally getting to settle down in a great big pile of his bear friends as a perfect spot to sleep. Ah, just like my life… I mean XD Very sweet art style.
5. Chewie and the Porgs by Kevin Shinick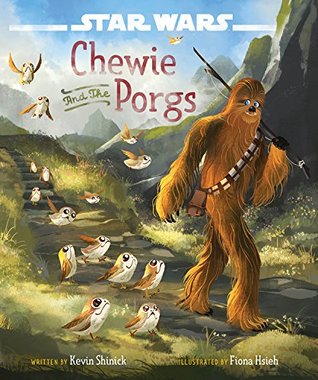 Synopsis: Chewbaccca is a Wookiee on a mission! He has traveled to a mysterious island on the planet Ahch-To with his friend Rey to famed Jedi Knight Luke Skywalker. But Chewie doesn't expect to find the porgs, cute and mischievous creatures that inhabit the island.
For years the porgs have lived in peace and harmony. But when Chewis arrives, the cute little creatures must learn to share their island–and their food–with the might Wookiee.
And so begins the laughable, lovable relationship between Chewie and the porgs!
From Emmy award-winning writer Kevin Shinick comes a lovable tale of Chewbacca the Wookiee and the pesky porgs of Ahch-To Island. Featuring adorable illustrations by artist Fiona Hsieh.
Review: Don't mind me guys, sniff, I'm just OMG ahem I'm O K AY writing this slkjfls;dfj with happy tears in my eyes. SUCH A CUTE STORY. Another cute story: while filming The Last Jedi, oh calamity!! There were puffins e v e r y w h e r e and the SFX crew found it easier to just VOILA create the adorable puffy porgs rather than digitally erase all those flappy f///s. I love movie magic 😀
This delightful picture book has the snarkiest narrator which I appreciated and informs us of the only fact you need to know about the Star Wars universe rly: Wookiees have hearts of gold. And it shows, the love and the kindness and the fun (that these movies and these giant furry sidekicks hold). It shows throughout this whole book and I also recommend paying attention to some heartbreaking details (a certain something to the left of the blue puff cubes bag). UGH this book is perfection my dudes. Check it out.
Alrighty, everyone, there's five more P E R F E C T picture books for you. I do think picture books are nice lil meditative breaks from the sh*t life throws at you, and you know, if you have kids in your life, share the love ❤
Let me know your top five animated films!! Here are mine: Treasure Planet, Anastasia, The Hunchback of Notre Dame, Ratatouille, and Paranorman